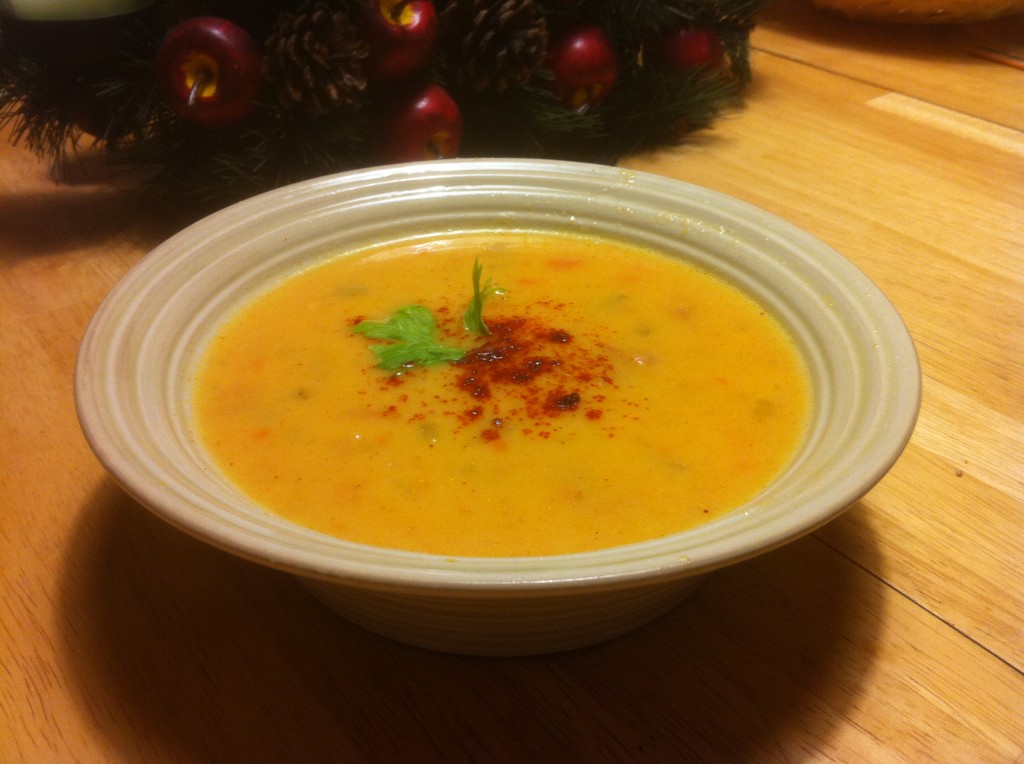 Beer Cheese soup was something my wife and I discovered during a visit to Wisconsin one summer. We loved it so much that I deconstructed the recipe and added my own little tweaks. The result is a wonderfully rich and hearty soup that is great on a cold winter's day. Feel free to add your own tweaks as this is by no means perfected yet. In fact every time I make it i do something a little different.
Prep Time: 3 hours (most of which is creating the broth)
Servings: 8-10 adults
Ingredients
1 Ham Bone (optional but produces the best results, If no ham bone, add 2 cans of chicken broth and butter to your shopping list.)
2 Cups Chopped Ham
2 bottles of dark beer (Ale or Lager is your choice. Go with something you like but no light beers!)
4-5 Celery Stalks
2-3 Carrots
4 Large Potatos
2lb Shredded Mild Cheddar Cheese
1 Medium Onion
Spices: pepper, paprika, garlic salt
Directions
Chop celery, carrots and onion into small cubes about 1/2 inch. Put ham bone, celery, carrots, and onion in a large 5 qt pan and add just enough water to cover ingredients. (If you do not have a ham bone, you can substitute a half a stick of butter and 2 cans of chicken broth. add enough water to make the pan about half full)
Bring mixture to a boil then reduce heat and allow to simmer for about 2 hours.
After the broth has been made. Peal and chop potatoes into 1/2 inch cubes and add them to the pot. Remove or add enough water to where the potatoes are just covered by liquid.
Bring back to a boil until potatoes are soft and cooked.
Remove from heat and partially mash the potatoes. I find an immersion blender does this task perfectly but a hand masher can also be used effectively.
Add beer, ham and cheese and stir till melted and well mixed.
Add spices to achieve desired flavor (about a tablespoon of paprika, a table spoon of pepper and a teaspoon of garlic is how I like it.)
Bring soup back to a low simmer then turn off heat and serve with a hearty bread for dipping.