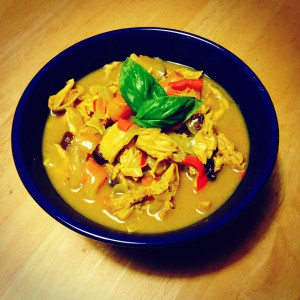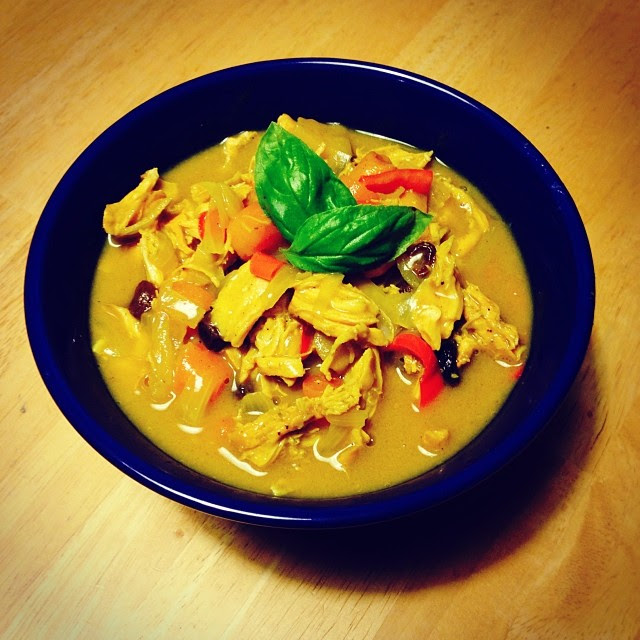 The recipe is being created on the fly. The concept, as defined by the title of this post, sounds pretty delicious to me. Most of the ingredients being used are pulled because they are currently available in my kitchen and could easily be substituted. This is a Saturday afternoon thing, with no rush to get it done and nothing to do but drink margaritas and do laundry. Best part is that it combines 2 cooking techniques that should never be rushed; Smoking and Curry…
Ingredients
1/2 stick butter
3 Tbsp Flour
Curry Powder
2 Cans Chicken Broth
1 lb raw chicken strips
1 medium onion. Coarsely chopped.
1 bell pepper. Coarsely chopped
1 small red apple. coarsely chopped
1 large Carrot. Cut into bite size pieces.
1/4 Cup Raisins
4 servings of cooked white rice.
Direction
combine flour, 3 Tbsp curry power and butter and cook over medium heat for about 10 minutes stir regularly
Add 1 can of Chicken Broth slowly whisking to mix completely
Add 3 Tbsp of Peanut Butter and whisk until peanut butter melts and combines with liquid. Then remove from heat
Add salt and pepper to taste.  About 1/2 tsp each
Spoon a small amount of sauce onto chicken. Just enough to coat the surface of the chicken.
Hot smoke chicken on a prepared smoker for a minimum of 1 hour. Chicken may be grilled instead if smoker is unavailable (cook chicken till slightly blackened).
Meanwhile add 1 can of chicken broth to sauce and bring to a simmer.
Add Onion, Apple, carrot and bell pepper to sauce and cook over low heat  for 20 minutes stirring ocassionally.
Shred Chicken and add to sauce. Note that chicken is most likely still not cooked all the way through and should therefore still be treated as raw chicken.
Add Raisins.
Return to Boil and then simmer for at least 15 more minutes
Serve over rice and Enjoy!