Gyros are by far one of my favorite dishes. This recipe will make about 8 gyros depending on how much meat you like in yours.
Gyro Meat
Ingredients:
1lb Ground Beef
1lb Ground Lamb
1 Medium Onion
4 Garlic Cloves
2t Oregano
2t Salt
1t Black Pepper
1t Marjoram
2T Dried Mint
Meat Preparation Directions:
Combine all ingredients but meat in a food processor and blend till very fine.
The next day, bake at 350F for 60 minutes. Allow to cool before slicing thin.Mix everything together very well in a mixing bowl. Compress into a tight loaf and refrigerate overnight.
The meat is now ready and can be stored for later use in the freezer as needed.
Tzatziki Sauce
Ingredients:
8oz yogurt
1 Large Cucumber
1/2t Black Pepper
1t salt
1t sugar
2T dill
2 Garlic Cloves (Minced)
Juice of 1/2 Lemon
Sauce Preparation: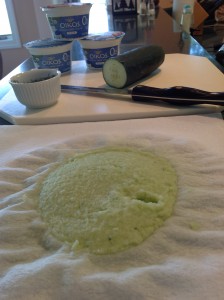 This prep method is very unusual the first step is to take all of the water out of the cucumber. First slice the cucumber into quarters down the long way and take out the seeds. Chop and place in a food processor along with the salt. Blend lightly. Take out the cucumber mash and place it on 4-5 Paper towels to let the moisture soak in. After the first set of paper towels are saturated, flip the cucumbers onto a second set of paper towels and allow moisture to soak in. Repeat this process until the paper towels do not saturate completely.
Combine all ingredients and mix completely. Place in refrigerator for at least 24 hours for sauce to re-thicken.
Final Prep and Serving
Ingredients
Pitas
Tzatziki Sauce
Gyro Meat
Tomatoes
Cucumber
Lettuce
Directions:
place 4-5 pieces of sliced gyro meat on a skillet and allow to brown lightly on both sides. Fill a pita with the meat and slices of the tomato, lettuce and cucumber as desired. Cover with a scoop of Tzatziki Sauce and enjoy!
The Challenge!
I have made this reciepe a number of times and have always had the problem of a oil bubble forming in the center of the meat. This doesn't affect the flavor as it comes out as soon as the meat is sliced. However, it does make the meat slices a little less "perfect" looking than I would like. I have considered a draining tube in the center of the loaf to prevent this issue but I would be interested to hear if anyone has a solution for this or has even run into a similar issue.