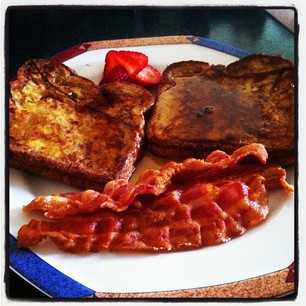 Makes about 10 slices
Whisk together:
6 eggs
1/4 tbsp nutmeg
1/4 tbsp cinnamon
dash of whole milk
Dip slices of wheat bread in mixture and take directly to griddle.
DO NOT SOAK**
Cook in skillet or on flat top until browned. Slice some strawberries or other favorite fruit, top with maple syrup and ENJOY!!!